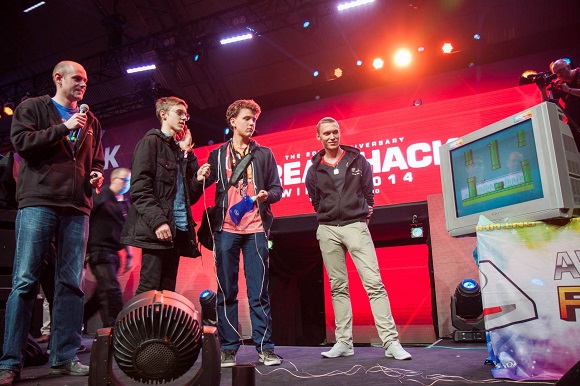 Flappy Bird, who doesn't know this cult smartphone game? It became known for its simple setup yet being ridiculously difficult to play well, and after becoming an massive hype all over the world the developer actually pulled the game from the App Store. The original Flappy Bird might not be available for download anymore, lots and lots of others have tried to recreate the experience. Everyone failed… until now. Awesome Retro has made the best version of Flappy Bird ever, just by combining two wires, a Commodore 64 and the game itself…
Two wires? Yes! Two wires, since Awesome Retro's version of Flappy Bird is not played by tapping on a phone or using a controller! No, this version of Flappy Bird requires two persons touching each other. The entire controller concept has been taken out of the equation and replaced by two wires carrying an electric current. As each person holds his/hers own wire the current flows when they touch each other. This translates as hitting a button on a controller or tapping your phone.
This edition of DreamHack Winter Awesome Retro took to the Mainstage  to show off their version of Flappy Bird, and it was an instant hit. Many teams joined them on stage to try and get the highest score. With some cool prizes to win teams could either compete by trying to get the highest score or the most original way of controlling the game with touching each other. It speaks for itself the teams found lots of different and creative ways to touch each other. We've seen face slaps, tickling of feet, kissing each other and even ass slapping!
Check out the video of Multiplayer Flappy Bird with Awesome Retro at DreamHack below!