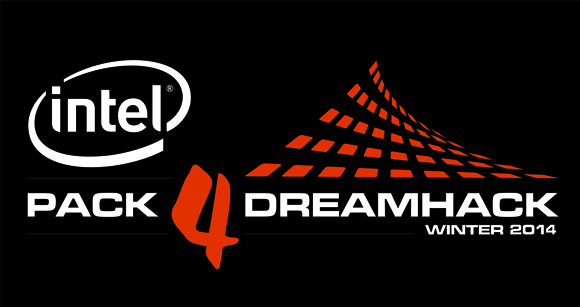 Today, we are proud to announce the opening of the sign-ups for the winter edition of Intel Pack4DreamHack! For the 15th time we'll be bringing you and your friends to the biggest computer festival in the world: DreamHack. This DreamHack Winter will be the 20th year of DreamHack, as DreamHack started in November 1994 when Kenny "K2-ICE" Eklund and Martin "DH_admin" Öjes rented the local school cafeteria in the small city Malung and invited their computer enthusiast friends to join them for a weekend of coding and hacking.
Within 20 years it has grown from a local cafeteria to being the biggest computer festival in the world. Held in the Elmia Halls in Jönköping, we'll be joining the Swedes once again for a weekend of gaming, e-sports, music, activities and being social with your friends from the net! This winter DreamHack is held from the 27th of November until the 30th of November and Intel Pack4DreamHack will be there!
Leaving on the 26th of November, a touring bus will take us from Eindhoven to Utrecht and Enschede to pick up the Dutch gamers that will be joining us this winter. From there on out we'll be traveling for about 16 hours to DreamHack to enjoy the Swedish winter weather and all the gaming we can. If you want to join this epic road trip, for just 149 euros, you can sign-up here today! We only have a limited number of seats available so make sure to sign up fast!
Do note that, as usual, groups have precedence over single sign-ups, and Duh-Events makes the final choice of who gets to join. You will receive an e-mail as soon as we have picked you to become a Packer this winter and only after payment will you be sure of your seat on the bus. So sign-up today, and soon you'll hear if you'll be enjoying the epicness that is DreamHack.
You can expect to hear if you're picked within two weeks of signing up!